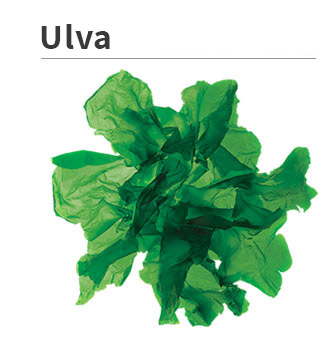 Ulva seaweed is also known as sea-lettuce, and is considered a super food due to the range of B12 vitamins and minerals it contains. Rich in dietary fiber and magnesium, it also contains iron, calcium, zinc and other B vitamins.
Ulva has a unique umami (taste-enhancing) flavor which emerges particularly in warm foods. Seaweed by nature is liquid-absorbing, so they blends beautifully with many recipes, providing a broad range of flavors which change from one dish to the next, depending on ingredients and the method of preparation (cold dishes, cooked, fried, roasted or baked).
How can they be cooked? Seaweed can easily be used as an ingredient on its own, as a spice in a broad variety of foods, or as a health supplement in a range of juices and shakes. Ulva seaweed is also great for mildly salting recipes. They are not only low in nitrate, but adding fresh ulva seaweed means less need to add salt, while maintaining the flavour of the spices.
Ulva seaweed-based nutritional supplement series: Seakura has a series of Ulva-based iodine supplements in accordance with Health Ministry recommendations regarding iodine consumption: Green Iodine, Green Hope, Green Joy. In addition, our supplements series includes Multix – a multivitamin based on seaweed and Synbiotics – a particularly effective blend of probiotics and prebiotics.
---
Gracilaria seaweed has a reddish, exotic color and a rich flavor. It strengthens the flavors and colors of warm dishes and salads, and can even be used in the preparation of sweet things such as spreads and a variety of baked goods.
In the food industry, gracilaria is used to thicken sauces and stews, as well as being a key to the preparation of vegetarian gelatin.